Language is the cornerstone of communication between humans in all areas of life. The main goal when you talk to others is the delivery of ideas, information and clarify positions or to issue a set of instructions in order to implement specific process.
This course will offer a mixed way between constructivist education and instructional education to be able to understand python programming. Where the course will ensure the presentation of the material theory for each of the weeks of the course. Followed by miniature software project to consolidate the theoretical concepts through practical application and use of the style of the Hacking in programming.
What is programming, program, and how to write a Python program?
The basic building blocks of Python
Using Python in conditional and Loop statements
Structuring using functions and object-oriented.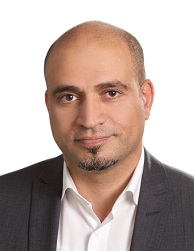 Dr. Akram Alkouz
Akram Alkouz is an assistant professor at Princess Sumaya University for Technology. Previously, he worked as a software engineer for many tech software companies. Alkouz graduated from Technical University of Berlin with a Ph.D. degree in Computer Science. He has research interest in the fields of Data Science, Social Networks Analysis, Natural Language Processing, Machine Learning, and Information Retrieval. He has many publications in international conferences and journals