Project management is not solely related to a person's business life but rather everybody's everyday lives. People's daily routine includes project management, therefore it is a way of life rather than a way of dealing with your business.
This course explores the field of project management by being an introduction to project management that is used in our everyday lives. It focuses on the phases of project management from initiation up until the closing of the project, to understand the essential principles of project management that can be applied in our everyday lives.
Develop a good understanding of the project management methodology.
Explain the five process groups that are used to organize and describe the work of the project.
Establish an effective team for the project and define their roles and responsibilities.
Define the project's charter and scope statement.
Build a project breakdown structure.
Determine the schedule and resources.
Plan the project's critical path and define critical and non-critical tasks.
Build quality into the project right from the beginning.
Establish proper communication strategies throughout all project phases.
Uncover potential project risks.
Procure products and services.
Monitor, track and report on project progress.
Close out the project.
This course is provided by PMI Jordan Chapter (PMIJO) and its team of volunteers in cooperation with Edraak
ِAbout **PMI Jordan Chapter (PMIJO)**
[www.pmijo.org][2]
PMI Jordan Chapter known as PMIJO®, is a component of the Project Management Institute (PMI) - the leading worldwide nonprofit association recognized for establishing project management standards of excellence - and home to members who are interested and working in the project management industry. The chapter was established in accordance with the PMI requirements, to promote the profession of project management for all sectors in Jordan through the various chapter activities, meetings and other educational programs. The chapter was also registered under number 30/848 as a local non-profit association in accordance to the Jordanian laws and regulations on July 15th 2003 . In 2007 the PMI Jordan Chapter was officially chartered by PMI.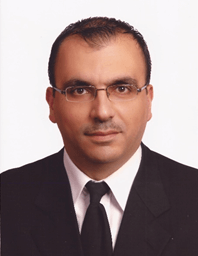 Eng. Feras Diab
Eng. Feras has around 20 years of experience in Consulting and Project Management within the Telecommunication and Software Industries with global and multinational companies in Middle East, Africa, and Asia. He managed tens of large projects and programs and provided consultancy for clients such as the major Telecom Operators, Large Enterprises and Governments around these regions. On academic level, Feras holds a B.sc. in Computer and Telecommunication Engineering from the University of Jordan. He is certified PMP and Certified TopSIM Trainer in Management and Leadership. Feras is an active leader volunteer and board member with several professional organization such as IEEE and PMI for more than 20 years. Currently he is the Industry Officer in IEEE Jordan Section and the VP of Communication and IT in PMI Jordan Chapter. Feras conducted tens of sessions and workshops in Project Managements, Digital Transformation and IoT topics, he founded several startups and he is currently the founder and the CEO of Converged Technology, a Digital Transformation Enabler, and the Connection of Things, an IoT Consulting and Training company.