We all know that different foods are necessary for human growth and for doing various daily activities. But are the benefits of food limited here or extended to become a way to prevent or cure many chronic diseases? What is the relationship of food with the emergence of some chronic diseases by affecting the microorganisms that live in our intestines? Also, the possibility of providing food in situations of war and disaster is a real challenging task that might threaten human life so what health risks are emerging in such cases? And what kind of supportive food are available to avoid them?
In this course, we will try through the modules of this course to answer these questions and to learn about the concept of unconventional nutrition, relying on advanced scientific research in the field of food and individual health. In addition, we will try to highlight recent research trends in human nutrition and spread health awareness associated with food.
Functional foods and their preparation methods
The most important functional components (Omega fatty acids, Probiotics, Prebiotics, Skimmed food)
Intestinal flora as the first line of defense in the body which can affect the individual health.
Food supplements in different health conditions
Malnutrition problems during war and disaster
The most important supporting food used in a situation of war and disasters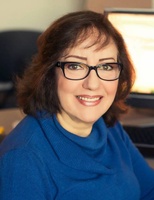 Dr. Ghada Bachour
Prof. Dr. Ghada Bachour a pharmacist from Syria. PhD in Food Science from Justus-Liebig-University, Giessen - Germany. Professor at the Faculty of Pharmacy in Aleppo University - Syria (1994-2015). First post Doc. assignment (Germany 2005). Second post Doc assignment (Edmonton – Canada, Faculty of Pharmacy – University of Alberta) (2015-2017).Third post doc assignment and current work: visiting Professor at the department of Food Chemistry & food biotechnology institute in Justus-Liebig-University, Giessen - Germany. Held several administrative and scientific positions at the Faculty of Pharmacy in Aleppo University (Dean of the Faculty of Pharmacy; 2001-2005, Head of Analytical and Food Chemistry Department, 2006-2007, Vice Dean, for Scientific Affairs 1999-2001 and 2007-2008, Dean of the Faculty of Pharmacy, Ebla Private University 2008-2012. Worked at Al-Razi Pharmaceutical Industries in Aleppo for about 18 years, as head of the quality control laboratory 1994-2004 and then as scientific consultant, until 2012. Member of several committees as a research jury (International consultant board of the Jordan Journal of Pharmaceutical Sciences - JJPS. Elected as a member of the board of trustees of Ebla private university Edleb, 2014-2015. Conducted a large number of research which had been published in peer reviewed journals inside and outside Syria. Supervised a large number of master's and PhD thesis of students from the Faculty of Pharmacy, Science and Agriculture at Aleppo, Damascus and Tichreen Universities. Participated in several scientific conferences inside and outside Syria with papers in seminars, forums, and workshops, in addition to some press interviews about several topics.


Dr. Wissam Zam
Dr. Wissam Zam graduated from the University of Aleppo-Faculty of Pharmacy, Ph.D. in Food Sciences/the preparation and health implications of functional foods. She's a Lecturer at the Faculty of Pharmacy at Al-Andalus University for Medical Sciences and Tartous University and published a wide number of articles in international peer-reviewed journals.