This course consists of two parts that explain the main concepts of motion in one dimension and in two dimensions using infographics and virtual laboratories. In the first part of this course "Motion in one dimension", we begin to explore ideas of position vectors, displacement, velocity and acceleration, and how these physical quantities change with time. We will study the relationship between velocity vector and acceleration vector when object moves with a constant velocity, constant acceleration, when it's velocity or acceleration changes with time, and when the direction of motion is reversed. In this course, students will also be introduced to "motion diagrams" in terms of position vectors and velocity and acceleration with time, and then we will link these concepts with the motion diagrams. Students will learn a clear strategy to solve one dimensional motion problems with all different cases.
Grasp the main concepts of the movement: the vectors of the location, speed, and acceleration.
Recognize the relationship between velocity and acceleration vectors when the body moves: a constant speed, or slow down, or when the reflection of the direction of movement.
Movement and expression vector graphically described in terms of the site over time, then the link between the concepts and diagrams of the site vectors, velocity, and acceleration.
Develop and implement a clear strategy to resolve the movement of different kinds matters.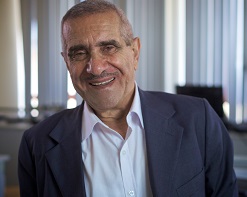 Dr.Issa Shahin
Dr. Shahin graduated with the following degrees in Physics,B.Sc. (Special degree, distinction with 1st class honors) Cairo Univ.-Egypt, M.Sc. (Thesis with honors) Auckland Univ.-New Zealand, M.Sc. Stanford Univ.-USA, Ph.D. Stanford Univ.-USA At Stanford University,Dr. Shahin published an important set of research papers in top international refereed Journals . This research was later accepted as part of research submitted to two Nobel Prizes in Physics in 1982 and 2005. Dr. Shahin practiced teaching for a few years at the Secondary School level, and Teacher's Training Colleges; followed by more than 40 years of University Teaching and Research at a number of universities inside and outside of Jordan. This is besides holding a number of important administrative positions as: Director of Physics Teaching at Ministry of Eucation, Head of Physics Department, Dean of College of Science, Trustee Member of a University, and Vice President of a University.