In today's world, whether it is on the professional or personal realms, most things rise & fall upon leadership. There is a continuous need to have people who take the lead to drive things forward & push for results, people who assume responsibility of what they say & do & even responsible for others' results; those working under them. They consider themselves accountable & take care of guiding others to achieve goals. We need people who know their priorities & manage them correctly, in addition to managing people & systems equally. We might go into the dilemma of born versus made leaders & never get out with a solid answer. Yet, we tried diligently to take the safe lane & develop leadership & management skills, ensuring that they go deep into our hearts, practicing them with spaced repetition, until they become automatic & natural in our lives, making a difference in our own lives & others', whether at home or in the workplace & even in the society in general. No matter what your title is & regardless of the post that you occupy, this course is designed to help you take your life & leadership to higher levels.
Define & understand the correct concepts of leadership & management
Develop the leader in us & unleash our leadership potential
Upgrade our leading & managing skills necessary for an effective, productive & positive life
Train on these skills for growth purposes & facilitate using them effectively
Increase our impact in life at home, ion the workplace & in the society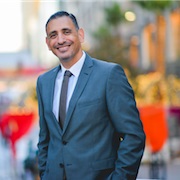 Dr. Suhail Jouaneh
Dental Surgeon by profession, Mindset Surgeon by passion. Suhail leads learning & development at Better Business in Amman Jordan. Motivated, personable executive coach and business facilitator, he is accustomed to handling difficult senior management cases through coaching and business counseling. He has organized thousands of workshops and trained more than 25,000 people from over 40 countries around the world mainly in the Middle East and GCC in English, Arabic (KSA, UAE, Cyprus, Lebanon, Syria, Jordan, Bahrain, Qatar, Istanbul) and in French for the French speaking North West Africa; Senegal, Tunisia, Algeria and Morocco. Currently, Dr. Suhail is sought after internationally for speaking engagements.