This course deals with the subject of leadership from various aspects relating to the leaders personality, behavior and psychological conduct affected by the role of employees at any work place including proper methods to motivate them, involve them and influence them in a positive way by reaching out to the group's leader or to the members calling for positive changes within the group emphasizing the problems in decision making within the working group.
In addition, the course will cover some of the modern leadership models and understanding genuine leadership and transforming leaderships demonstrating the great role and effect of the active leader to implement positive changes in the system of the operation.
Management and Leadership
Personal Characteristics of a Leader
Introduction to motivation and sources of strength
The pyramid of human needs
Specialization in work
The role of a leader in conflict situations
Leadership communication
Leadership Change
Social Culture and Change
Transformational leadership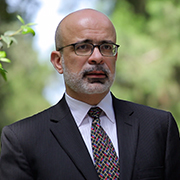 Dr. Yusuf Sidani
Dr. Sidani is Professor of Leadership and Business Ethics in the Suliman S. Olayan School of Business at the American University of Beirut. He has a PhD in management (organizational behavior and leadership) from the University of Mississippi, and a Master of Business Administration (MBA) from Indiana University. He also works as a consultant and trainer in subjects relating to self-development, leadership, and organizational behavior. Dr. Sidani's research focuses on work and business ethics in addition to managerial behavior with special focus on Arab environments. He has dozens of scholarly articles in refereed academic journals in addition to contributions to conferences and books in both Arabic and English language.