This course has been created to develop your abilities and skills to enter the world of fashion design and stimulate your creativity so that you master designing the mood board and the design of clothes. Through this course, you will learn about the history of fashion, how to predict fashion and learn important technical skills such as pattern making and sewing. When you finish and complete this course you will have a new look on fashion design and you will have the tools you need to prepare a beautiful portfolio that will help you succeed in the fashion world.
The history of fashion
How to predict the next trending fashion design
Types of Fabric
Drawing for Fashion Design
How to create a Mood Board
Sewing
Mannequin
Pattern Making
Types of Skirts
Stitching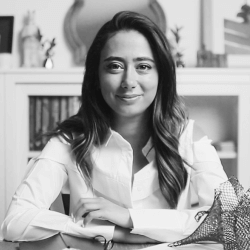 Farah Hourani
Farah Hourani, studied fashion design at Esmod in Beirut and took several fashion design courses at London college of Fashion. In addition, Farah was a finalist in Fashion Star season 1 on Dubai One. She has also held many fashion shows in London, Beirut and participated in Los Angeles Fashion Week.